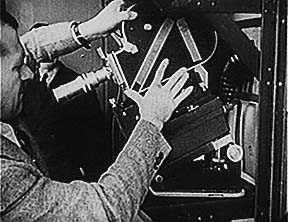 High Definition is the wave of the future and Streamline has it for you today. We have several HD crews compiling the stock footage library you'll be using in the years to come.
Here are some of the categories we have HD footage for already:
Washington, D.C. (FNA), President G.W. Bush (FNA); Atlanta, Las Vegas, Hartford, CT, NYC, (PT34); San Francisco, Chicago, Houston, Beautiful Vermont Winter, (PT35); Appalachia, T/L clouds, Waterfalls, Mountains, Fireworks, Arizona, Minneapolis, Washington D.C., New York City, Philadelphia, (PT36); Florida & Chicago, (PT37); Boston Aerials & Ground-based, (PT38); Oklahoma, (NL3); the 9/11 Attack (CB1), Iceland & Holland (LMA), Hoover Dam (LMA), Costa Rica Jungles, Beaches, Waves, Butterflies (BBA); Malaysia, Petronas Towers (BBB); POVs & dollies on New Honda Car & Roads in Desert (OH); Renewable Energy (LMA); Mt. St. Michael, France, Porto, Portugal, Paris & Yosemite National Park (LMB); Home Foreclosures, Business Closings, Heavy Construction, (WE2); Galapogos Island Sea Lions & Birds (WE3); Traffic & a Fireplace in Use, (WE5); Traffic & High Gasoline Prices (WE6); Canada, Toronto, Wilderness & POV Driving (WE7); Airports, Alaska Trip, Hawaii Trip (WE8); Amazon Rainforets (WE9); Amazon Jungles & Galapagos Islands (WE10); Italian Landmarks, London, Paris, Frankfurt, Sardinia, all in Time Lapse (CR1); New Zealand, Maoris, Vineyard, Jets, Rugby Stadium, more (ZE2, ZE3); Malawi & African Wildlife, (NV1); POV Driving in England (MPP1); Air-to-air Aerials of new Airbus 300 Jet (R14); Los Angeles Tourist Landmarks (R16, R17); Las Vegas (HM1 & HM2); Asbury Park, NJ (HM3); Nevada & Hoover Dam (HM4); African Wildlife (HM5, HM6, HM7); New York City & Cape Hatteras, NC, (HM9); Time-lapse Clouds, the Barrett-Jackson Car Show Collectible Automobiles (OC); Medical, Las Vegas & Arizona landmarks (OQ); Wildfires, Golf, Race Car, Arizona & Clouds (OR); Flags, Clouds, Scenarios, Arizona & Jets (OS); New Zealand Aerials, Airplanes, Boxing, Teens in the Great Outdoors, (ZE4); Steel Mill, Amusement Park [Great!], (ZE5); Archival B&W historical early 1900's (HDA1, HDA2, HDA3); Archival Historical WWII & Cold War Anti-Axis Films, (HDA4, HDA5, HDA6); Time-lapse Sunrises / Sunsets, Stars, the Moon, Hot Air Balloons (00977R), Nature & Wildlife (D303R), 2012 Hot Air Balloons (BJ1) & more!
In HDV, we have: Hurricane Katrina (WS2), Hurricanes Ike & Gustav (WS5) & Generic Storm Footage (WS1, WS3, WS4); Alaska, cats, beauty Nature, NYC & much more (WE1); Chicago Aerials & more (NJ1); Dallas (GO6); Shanghai (GO4); A Child's Haircut (GO5), Luxury Car Emblems (GO5), A Church Wedding (GO5); Small Town Business Signs (GO6), State Highway welcome signs (GO6); and more!
Call Rick DeCroix at 212-925-2547 to discuss your project.
About Us | Our Library | Database | How to Order | Contact Us
Clients| A Message | HD is Here! | Home | Demo
Copyright © 2001 - 2017 Streamline Films, Inc.